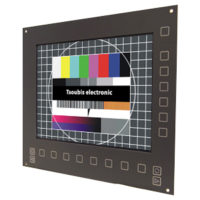 Replacement monitor for 15" CRT - Heidenhain TNC407, TNC410M, TNC410CP, TNC416, TNC426M, TNC430PB, iTNC530, MillPlus VME, MillPlus M LE412M,MillPlus IT LE422M
- BC 120, BC 120F, BC 125
Technical specifications:
Display / resolution 15.0" TFT full colour active / 1024x768 pixels
Brightness 300 cd/m2
Frequency 15-65 kHz horizontal, 50-75 Hz vertical
Input signal RGB analogue or TTL
Settings via OSD (On Screen Display)
Active area TFT screen 307x 231 mm (W x H)
Housing compatible
Front plate 400 x 350 mm (W x H) with glued protective foil and anti-reflective coated protection plate, up to IP65
Graphics controller  Heidenhain TNC 407, TNC 410M, TNC 410CP, TNC 416, TNC 426M, TNC 430PB, iTNC 530, MillPlus VME, MillPlus M LE 412M,MillPlus IT LE 422M - BC120, BC120F, BC125
Connector 15 pole triple-row HD-SUB jack
Power supply AC 85-240V rubber connector with safety fuse
Temperature range -10 °C to 55°C
Monitor has been manufactured according to CE industry standards, EN55022, EN55024
Order number: LCD15-0004 15.0" TFT installation monitor with front plate and integrated keyboard
Brief description:
This 15.0" TFT installation monitor has been designed as replacement for 15" tube monitor BC120, BC125 and TFT monitor BC120F of HEIDENHAIN TNC 407, TNC 410 M, TNC 410 C/P, TNC 416, TNC 426 M, TNC 430 PB and Heidenhain MillPlus VME, MillPlus M LE412M, MillPlus IT LE422M control units. Conversion with plug and play is quick and easy with a few simple steps. Integrated keyboard of the tube monitor will be assembled into the front plate of the TFT replacement monitor.

Uppdaterar...