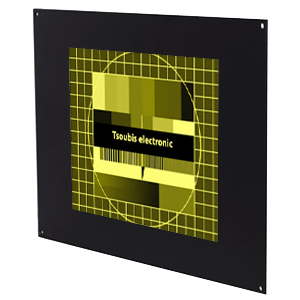 LCD12-0102 Replacement for 12" CRT - Heidenhain TNC135, TNC150, TNC151
- BE211, BE211B
Technical specifications:
Display / resolution 12.1" TFT full colour active / 800x600 pixels
Brightness 300 cd/m2
Frequency 15-45 kHz horizontal, 50-75 Hz vertical
Input signal RGB analogue or TTL
Settings via OSD (On Screen Display)
Active area TFT screen 249 x 188 mm (W x H)
Housing compatible
Front plate in RAL 9005, without front plate
Front plate measurements 385 x 275 x 69 mm (W x H x D)
Graphics controller:  HEIDENHAIN  TNC 135, TNC 150, TNC 151
Connector Centronics connector 24 pole
Power supply DC 12V via video signal
Temperature range -10 °C to 55°C
Monitor has been manufactured according to CE industry standards, EN55022, EN55024
Order number: LCD12-0102 12,1" TFT monitor with front plate
Brief description:
This 12.1" TFT installation monitor has been designed as replacement for 12" tube monitor (monochrome, BE 211(B)) of HEIDENHAIN TNC 135, TNC 151, TNC 150 control unit. Conversion with plug and play is quick and easy with a few simple steps.

Uppdaterar...